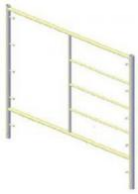 The ladder frame scaffolding is used as a replacement frame for our 5 ft. x 6 ft. 8 in. kits, or for building custom kits and towers. This ladder frame scaffolding is perfect for homeowners who want to build towers over 20 feet and can use a heavier frame. The benefit of using this frame over using a 5 ft. x 5 ft. frame is the cost. A 20-foot tower can be built with 6 frames and 8 frames, saving about $100 in material costs. The downside to using this frame is the weight. a 6 ft. 8 in. x 5 ft. frame is about 5 lbs. heavier than a 5 ft. x 5 ft. frame. Our 5 ft. x 6 ft. 8 in. frame meets and/or exceeds all OSHA regulations. To maximize the life and longevity of our scaffold frames, we apply a highly visible blue powder coat finish.
Scaffolding kits for sale USA
We offer a complete line of ladder, ladder and walking scaffold frames to provide access and work platforms for all your commercial, industrial and rental needs.
Our scaffolding is often sold in sets. Our scaffolding kits include four clamps. It is often less expensive to purchase scaffolding in sets than to purchase each piece individually. Buying by the kit also makes it easier to calculate how much you need for your project.
Types of scaffolding we sell
Among these different styles, we carry ladder scaffolding for creating long working platforms that span multiple sets of frames and ladder scaffolding, which is typically used for scaffolding towers or standing platforms and working platforms that require different elevations at the same time.
Ladder scaffolds are typically used for building scaffold towers, interior applications and where more precise adjustments to the height of the working platform are required. They also allow you to create a standing platform and a work platform a few feet high so you can keep tools and materials at waist level. Some frames come with a cross-step on one side of the frame, while others have cross-steps on both sides. The frame itself can be used as a ladder in accordance with OSHA standards if the distance between rungs on the frame is less than 18 inches Ladder frames can be used at the end of a scaffold platform in conjunction with walking frames.
Choice of Size
Full height ladder frame scaffolding
We consider 6'4" - 6'8" size frames to be full height frames. There are several advantages to taller ladder frame scaffolds. If you need multiple working platforms stacked on top of each other, this frame gives you enough room to walk around and work on the lower platforms. This frame allows you to reach the specific height you need for your project, and when reaching higher, fewer of these taller frames are needed to get you there. Our full height frames are available in both walking and ladder versions. We also have different widths.
5' High Ladder Frame Scaffolding
Our 5' frames are typically used to create scaffold towers. 5' increments make it easy to calculate platform heights and the number of frames that need to be stacked. The shorter height allows you to get closer to the ceiling without touching it than a taller frame.
5' X 5' double ladder scaffold frames. zhonghong sells and rents scaffolding, panels and accessories worldwide.
Half-height ladder frame scaffolding
Our half-height frames range from 2' to 4' high and are typically used for interior applications that require very specific platform heights, such as ceilings where full-size frames cannot be used. View our half-height frames for sale.
zhonghong sells and rents scaffolding, panels and accessories worldwide.
Skinny Ladder Frame Scaffolding
Our skinny ladder frame scaffolding is any frame less than 5 feet wide. We sell frames that are 42 inches wide and 3 inches wide. These frames are typically used for stucco, light applications, tight spaces, and interior applications. The advantages of these frames are that they are easier and faster to assemble, easier to transport and take up less storage space, and they allow you to work in tighter spaces. They also require less decoration. For example, a 5-foot-wide frame requires six boards to lay. A 3-foot-wide frame requires only four boards. On larger projects, this can result in significant cost savings.