Aluminum Scaffolding Features
aluminium scaffold are temporary elevated structures for support work crews and materials on construction sites when conducting maintenance or repair of buildings, bridges, and other structures. The lightweight components of each scaffolding product ensure easy assembly and transport, so you'll be able to stock and move it as needed with minimum effort. Safe and durable construction scaffolding is necessary for the safety of workers on a worksite and choosing the appropriate type of building scaffolding for the job is essential.
Foldable Aluminum Scaffolding for smaller towers, quick, simple and easy to use.
Aluminum Scaffolding Optional quick base for lightning fast assembly
Aluminum Scaffolding is Safe, reliable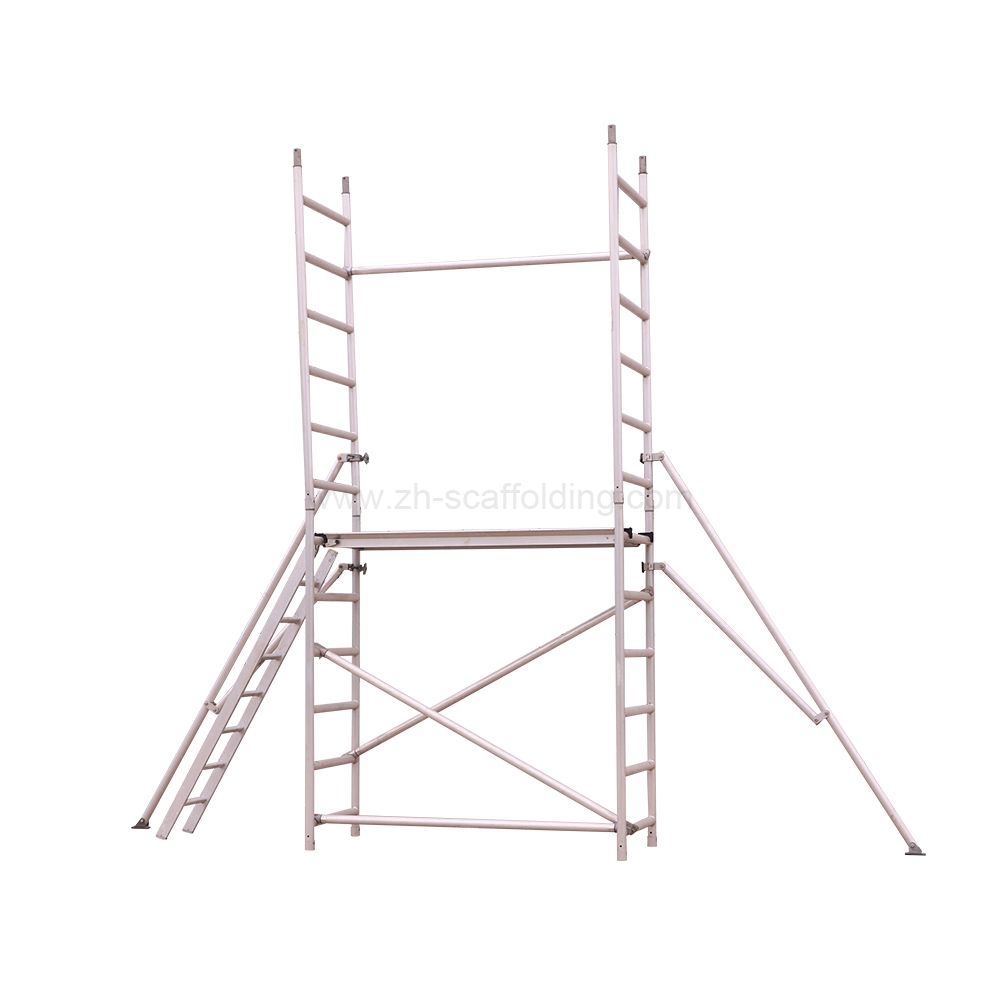 Aluminum Scaffolding Accessories
Ladder Jack Two-Rung Scaffolding Safe Short Body
Aluminum Scaffolding Applications
Our Aluminum Scaffolding range includes different types of mobile scaffolding to suit all your needs, no matter how complex the project. We stock folding scaffolding, as well as narrow and wide scaffolding for Roof and Barrier Edge Protection for residential, commercial and industrial premises.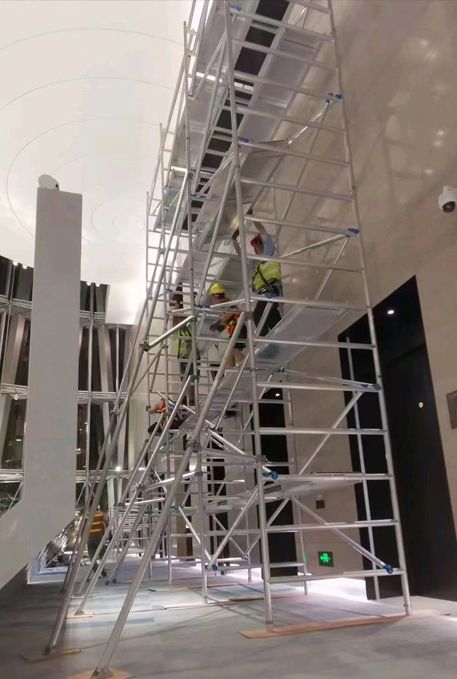 Aluminum Scaffolding for Sale
We control the production of each piece, which allows us to ensure that all the pieces of the aluminum scaffoldings are safe. We have manufactured all kind of structures for many years, over time, we have developed new manufacturing methods, trying to get the safest scaffolding aluminum in the world, and we achieved it. The success of our aluminum scaffolding for sale comes from an exhaustive manufacturing based on our own experience. Another condition to ensure the security of our aluminum scaffolding is our assembly team. We provide a team who knows perfectly all the devices of our scaffolding. Assembly is not only essential for safety, it is also part of the maintenance work of an aluminum scaffold. If our team detects any defective part or a piece in bad condition, it is immediately changed.
Meanwhile, we sell aluminum towers too, which are made from high-grade aluminium, which is lighter than steel but just as strong. This means they're easy to transport and set up – even by one person. They also fold down so they can be stored away when not in use, saving space at your worksite, construction site or home garage. And because we manufacture them ourselves, we can offer them at factory-direct prices with no middlemen involved – meaning you get the best deal possible!
ALUMINUM SCAFFOLDING FOR SALE AND SECURITY
When we sell aluminum structures, we know that they can be used in many different ways, that is why we work to create multipurpose scaffolds, capable of adapting to all kind of environments. Each customer does a different job, in Alufase we have developed a method to manufacture aluminum scaffolding which allows each piece to adapt to different uses, from remodelling work in private homes to help in the construction of large works in some of the main cities of the United States. All this work is oriented to security. All our scaffolds have light and resistant pieces, prepared to work at height.
ALUMINIUM SCAFFOLDING STORAGE
Definitely, the best we can do to make sure that an aluminium structure is always in good condition is to store it properly. Some companies store their scaffolding in outdoor spaces, which is a disadvantage, because the pieces can be damaged by knocks, corrosion and rust. In Alufase we keep all our scaffolding in our own buildings, conveniently stored for future uses or sell them. In addition, all parts are checked after each job, those that have suffered some damage are replaced by new ones, manufactured by our company.
Scaffolding Aluminium Manufacturers
Unlike other scaffolding companies, in ZHONGHONG we only work with our own material. We do the most adequate maintenance work for our pieces, when we sell a scaffold, we are sure of its characteristics and the advantages it has over other structures.
If you want to work with an aluminum scaffold for many years, trust ZHONGHONG and find the best solution for you, your security is our priority, caffolding Aluminium Manufacturers are the most used scaffolds in the world, but not all of them are the same, work with us and perceive the difference.
ALUMINIUM SCAFFOLDING MAINTENANCE
One of the keys when we are working with Aluminium Scaffolding is maintenance. Aluminium is a very resistant material in the long term, however, it is important to carry out an intense maintenance work, which avoid weak parts.
About us
When it comes to aluminum scaffolds, there are a wide variety made from different materials and used for different projects. Work crews need an aluminum scaffolds to support themselves as well as their building materials when working on a building construction site. Therefore, it's important to provide the appropriate support for specific needs. Here, you can find wholesale aluminum scaffolding, for working needs. Our aluminum scaffolding factory has all the wholesale aluminum Scaffold you need.
As one of the nation's leading manufacturers and distributors of aluminum scaffolding products, ZHONGHONG Scaffolding provides the safest alternative to using a ladder above ground level. Our product offering comprises different types of mobile scaffolds to accommodate all of your needs, no matter how complex the project. We stock folding scaffolds, as well as both narrow and wide scaffolds suitable for residential, commercial, and industrial sites.
Whether it is around-the-house painting, gutter or window cleaning, or high-level industrial construction or maintenance work, ZHONGHONG aluminum scaffolding has a solution for any access problem at extremely competitive prices.
In ZHONGHONG we take care of our material, so our structures are always in perfect condition, preventing our scaffolding aluminium from being damaged.
COMPLETE ALUMINUM SCAFFOLDS AND PIECES
In our catalogue you will find complete aluminum structures and single parts. Our mobile scaffolds are very light and safe, with them you can work in different places, locating the complete structure in the place where you need it.
We have as well all kind of aluminum parts for aluminum scaffolding. Sometimes, the scaffolding is damaged by different causes, it is important to change these pieces by new ones, which you can find in our website. All our pieces are evaluated in our factory, to ensure that all of them meet the necessary security requirements.But if you are looking for the best scaffolding rental agency, Alufase is the solution.
Have a question? Our team of experts are on hand to assist you in finding the best scaffolding and access solution for you. Contact us or get a quick quote online today.
we have aluminium scaffolding for sale to suit your needs
We also offer an export service on aluminium scaffolding to any part of the world, which can be arranged by a member of our sales team. If you are looking for scaffolding that is of the highest quality, meets safety requirements and is available to your site at a competitive price, contact us today!