Scaffolding is also referred as scaffold or staging, which is a provisional structure used for supporting a work team and materials to assist in the construction, repairs and maintenance of buildings, tall residential as well as commercial structures, bridges including all types of man made structures.
Let's take a look at the basic components that are used in scaffolding.
List of Scaffolding Components:
Scaffold Adjustable Base Plates
Detail of scaffold components:
Standards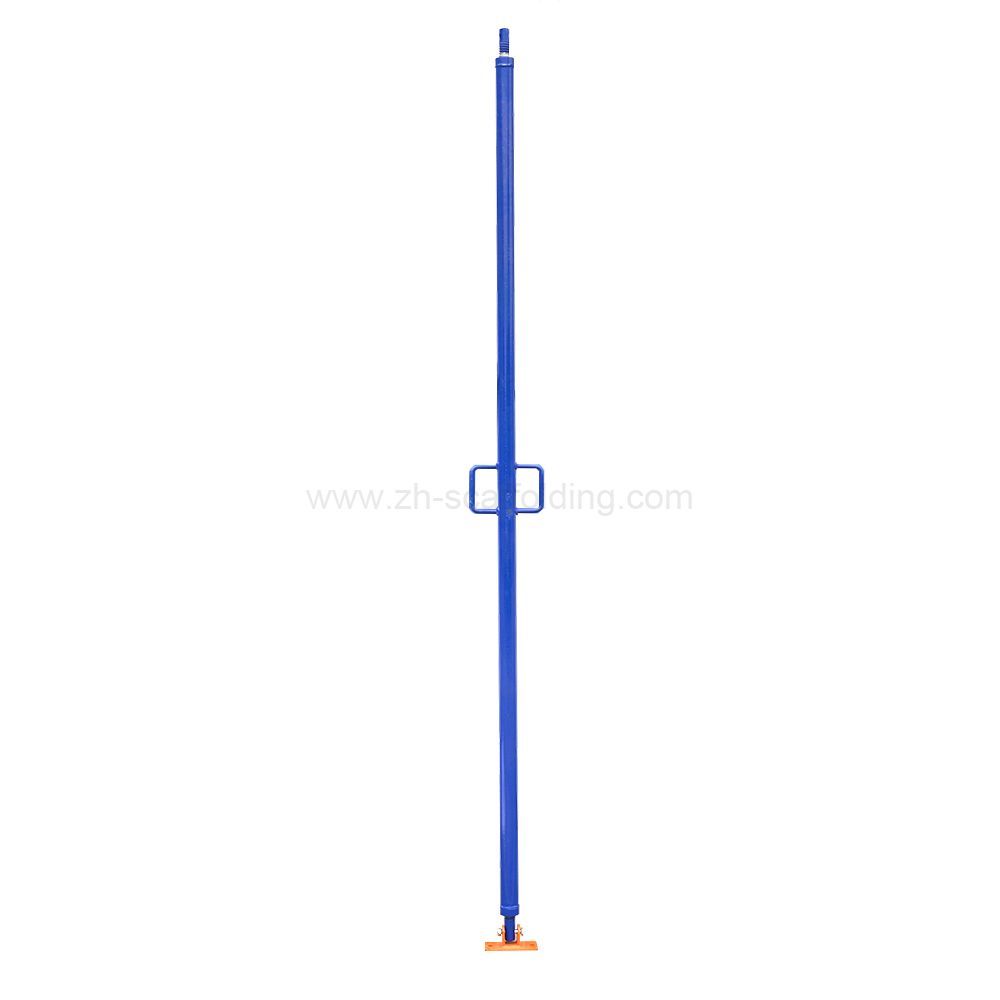 The standards, also called uprights, are the vertical tubes that transfer the entire weight of the structure to the ground where they rest on a square base plate to spread the load. Scaffolding must adhere to OSHA standards for performance requirements and structural design methods. Pairs of standards are placed at the back of the scaffolding (nearest the building) and at the front of the scaffold, the two pairs of standards forming a bay that has a width (back-to-front dimension) and length (side-to-side dimension). As standards are of fixed lengths, taller scaffolding requires that the pipes be connected so as to route the load directly through the structure. This is accomplished by way of a pin and socket joint which twists to lock successive pipes together.Because scaffolding must be compatible with a wide array of buildings and structures, there are numerous kinds of scaffolds to meet specific building requirements.
Ledgers

Ledgers are flat tubes that join between the standards. In between each standard, running horizontally along the length of the scaffold, is a ledger or runner or cross beam, which adds further support and weight distribution. Multiple bays are connected with these ledgers both at the back and the front of the scaffold. Placement of ledgers defines the height at which the worker platforms are staged (except for the lowest one which is placed near the ground).Joints in ledgers should also be staggered, i.e. joints in adjacent ledgers should not occur in the same bay. These joints should be made with sleeve couplers and not be more than one-third distance away from a points in ledgers on the same lift and in adjacent lifts should not occur in the same bay unless there is unjointed guardrail (not to be removed) when joints in the ledgers above and below can be in the same bay.Ledger bracing should be installed on tube and fitting scaffolds. Brace alternate pairs of tube and fitting standards, ensuring that the bracing forms a complete series of triangles from bottom to top of the scaffold. Install the bracing from ledger to ledger or from standard to standard. For tube and fitting scaffolds, brace each pair of standards where the bracing is installed from the inside ledger to the guard-rail of the lift below to allow access along a boarded lift.
Transoms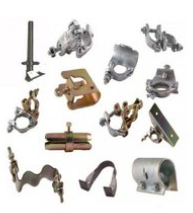 Transoms lean on the ledgers at the right angles. Major transoms are positioned next to the standards; they support the standards that are in place and give support for the boards. To render additional support for the boards, intermediate transoms are placed between the main transoms.Transoms or bearers, placed on top of ledgers and at right angles to them, run horizontally from back to front, defining the bay width. Main transoms provide support for standards by holding them in position as well as supporting boards or planks. Intermediate transoms are placed alongside main transoms to lend additional board support.
In addition to standards, ledgers, and transoms, there are several other supportive elements that serve to reinforce the fundamental scaffolding. Braces include cross, or transverse, braces and façade, or longitudinal, braces. Cross braces run diagonally between ledgers and securely attach to standards to increase a structure's overall rigidity. However, they can also be secured between ledgers, in which case they are simply called ledger braces. Façade braces help prevent a structure from swaying and are attached on the face of the scaffold, running diagonally along the length of the structure and securely attaching at every level. They are attached along the back of the scaffold as well.
Scaffold Tubes

Scaffold tubes are generally made of aluminium or steel though there is composite scaffolding that utilises fibril-wound tubes of glass fibre in a polyester or nylon matrix due to the high cost of composite tube, which is normally used only when there is a danger from overhead electric cables that can't be cut off.
Galvanized steel scaffold tube is the main scaffolding part which creates the framework and the base for working platforms. Scaffold tubes are made from galvanized steel, are heavy duty and come in various lengths ranging from 5ft to 21ft and all have a different part to play.
Scaffold Couplers and Clamps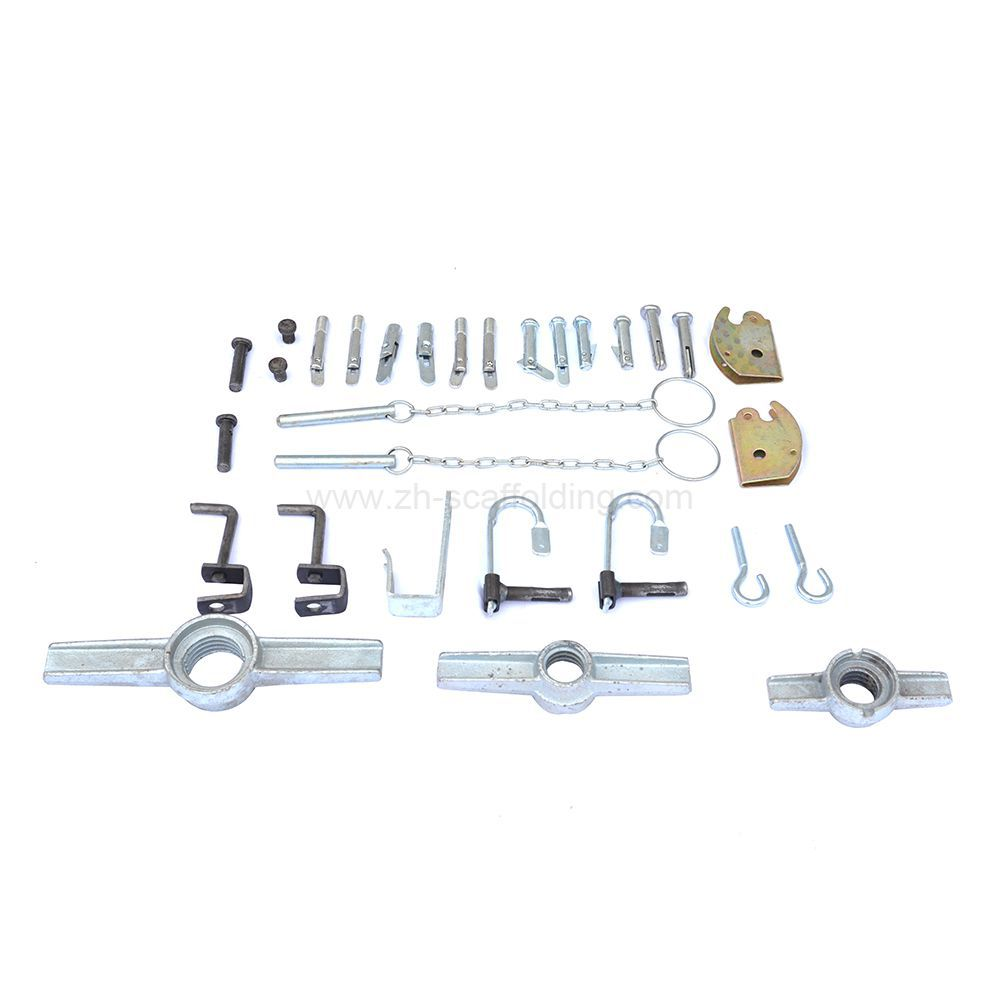 Couplers are fittings that hold the tubes together. The most familiar are known as scaffold couplers and there are three basic types, which are Putlog Couplers, Right-angle Couplers and Swivel Couplers.
Couplers help connect structural elements and come in several variants. To connect a ledger or transom to a standard, a right-angle coupler is used. If a transom supports a board and must be connected to a ledger, a putlog or single-coupler is used to connect the ledger to the transom. For any other angle of connection between scaffold piping, a swivel coupler is recommended.
Scaffold couplers are essentially the fundamental component that is used to assemble tube-and-coupler scaffolding. Tube-and-coupler scaffolding is defined as 'a scaffold in which individual circular tubes serving as standards, braces or ties are joined together by means of purpose-designed couplers'.
This basic fitting that is designed to join two scaffold tubes can be used to create a diverse range of scaffolding structures or used as an accessory to prefabricated scaffolding systems.
These components are classified into two categories – load-bearing and non-load bearing.
Adjustable Base Plates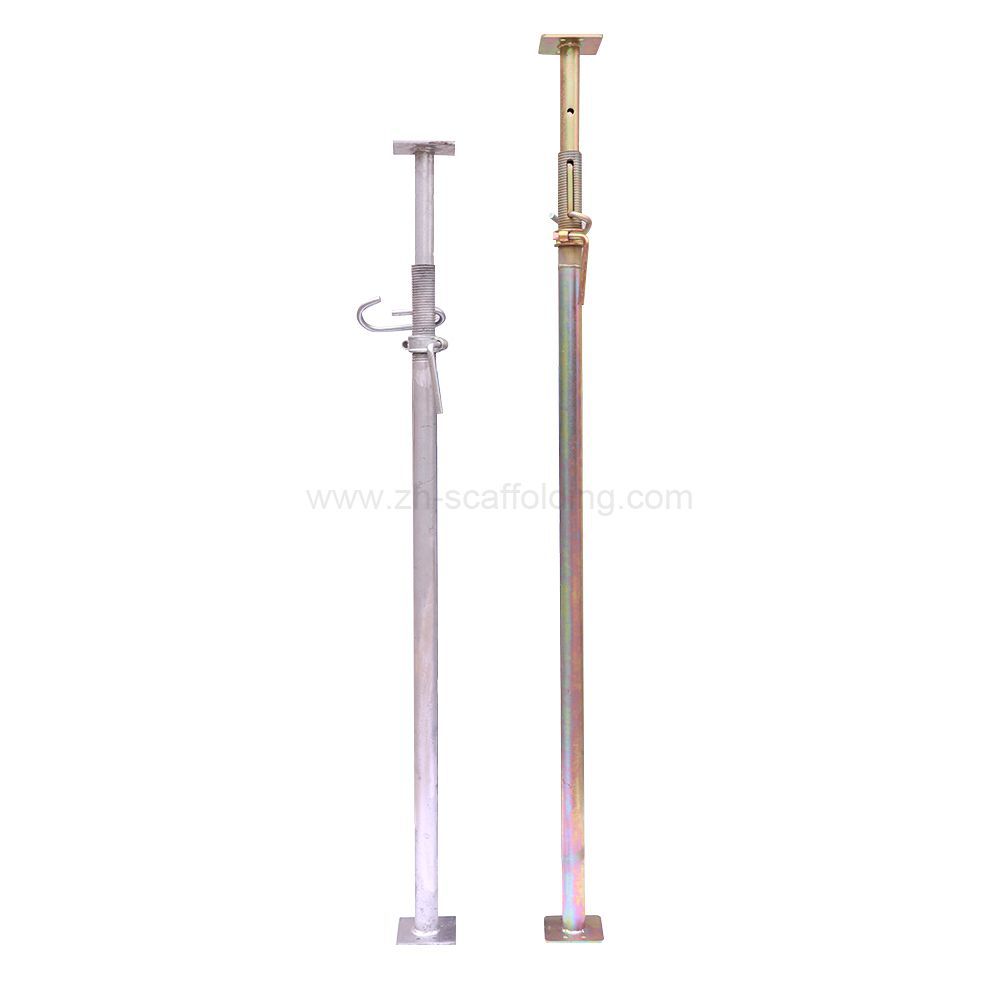 You can select from different height-adjustable base plates that come with strong and self-cleaning round threads to adjust to the ground. It comes with colour and notch markings to render safeguard against over-winding.It is safely carried and spreaded the load. A metal plate with a spigot for distributing the load from a standard or raker or other load-bearing tube.
Diagonal Braces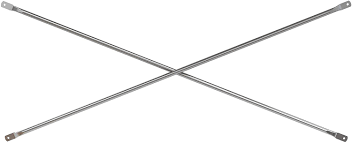 The diagonal braces with wedge locks further support the basic structure comprising of vertical standards and ledgers. Additionally, their high connection standards assist special structures.
All bracing points should be 300mm off the connection node joint of the standards, transoms, and ledgers.
Fixed to the long face of the scaffold normally parallel to the face of the structure and is fitted to the outside row of standards. It can either run across the face of the scaffold to its full height at an angle of 45° or run in a zig-zag fashion to its full height.
Bracing should be provided at least every 3.0m along the scaffold. Bracing will be fixed to extended transoms with right angle couplers or to standards with swivel couplers. Where braces are fastened to transoms, the transoms should be fixed with right-angle couplers, (load-bearing) to the scaffold. Brace couplers may be used as an alternative.
Toe Boards

Toe boards are placed between vertical standards . Toe boards are obtainable in aluminium, steel or wood. The toe board of steel lowers the fire hazard and also lasts long. Because of its design, there are no openings or gaps between the deck and the toe board.
Toe boards must be installed on work platforms where materials or tools will be in use. Toe boards must be installed not more than 1/4 inch above the platform and securely fastened. They may be made of solid material or mesh with openings no greater than 1 inch. Toe boards must be capable of withstanding at least 50 pounds applied in a downward or outward direction.
Platforms/Decking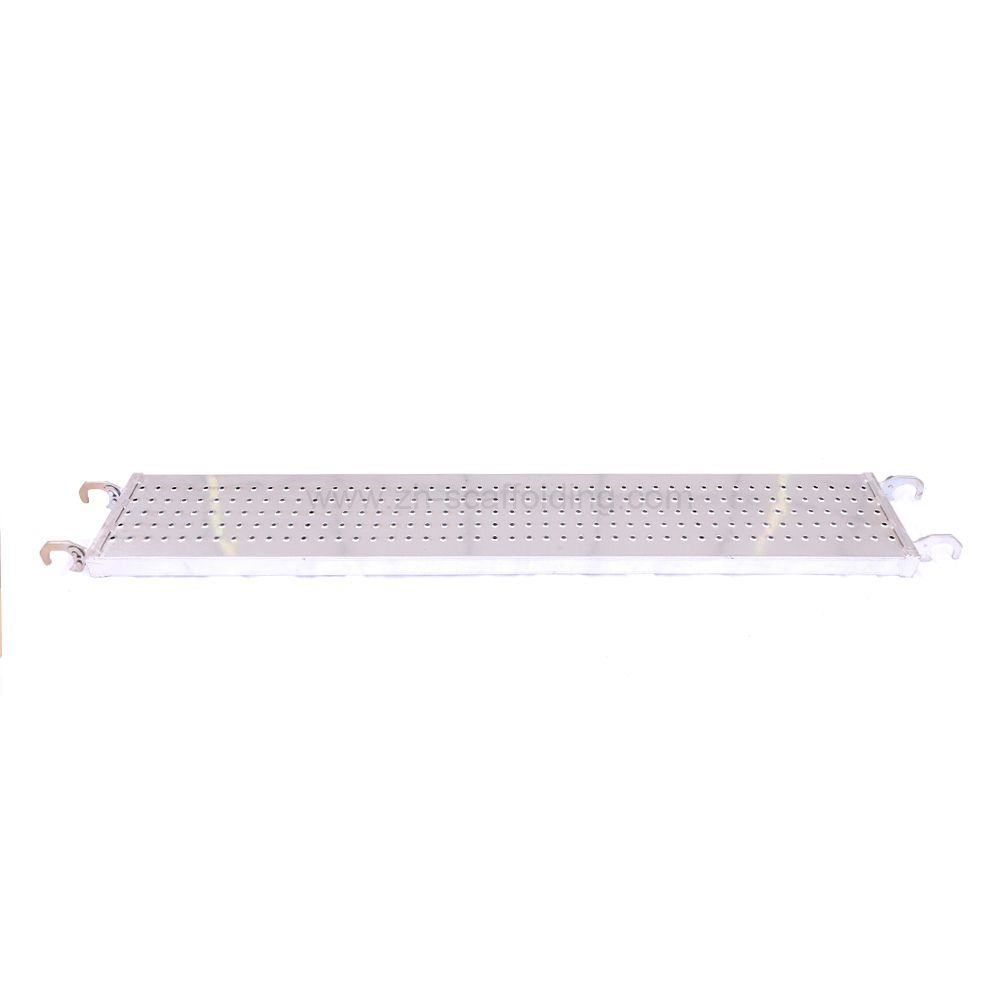 Decks are also referred as planks and they are available in aluminium, aluminium frame with plywood board and hot-dip galvanised steel. Decks are a structural component and so ledgers aren't needed at the deck level, which not only saves cost but also weight.
Scaffolds must be fully planked or decked whenever possible. The space between the last plank and the uprights cannot exceed 9 1/2 inches. The space between planks cannot exceed 1 inch, except where necessary for obstructions. Platforms and walkways, in general, must be at least 18 inches wide.
Working platform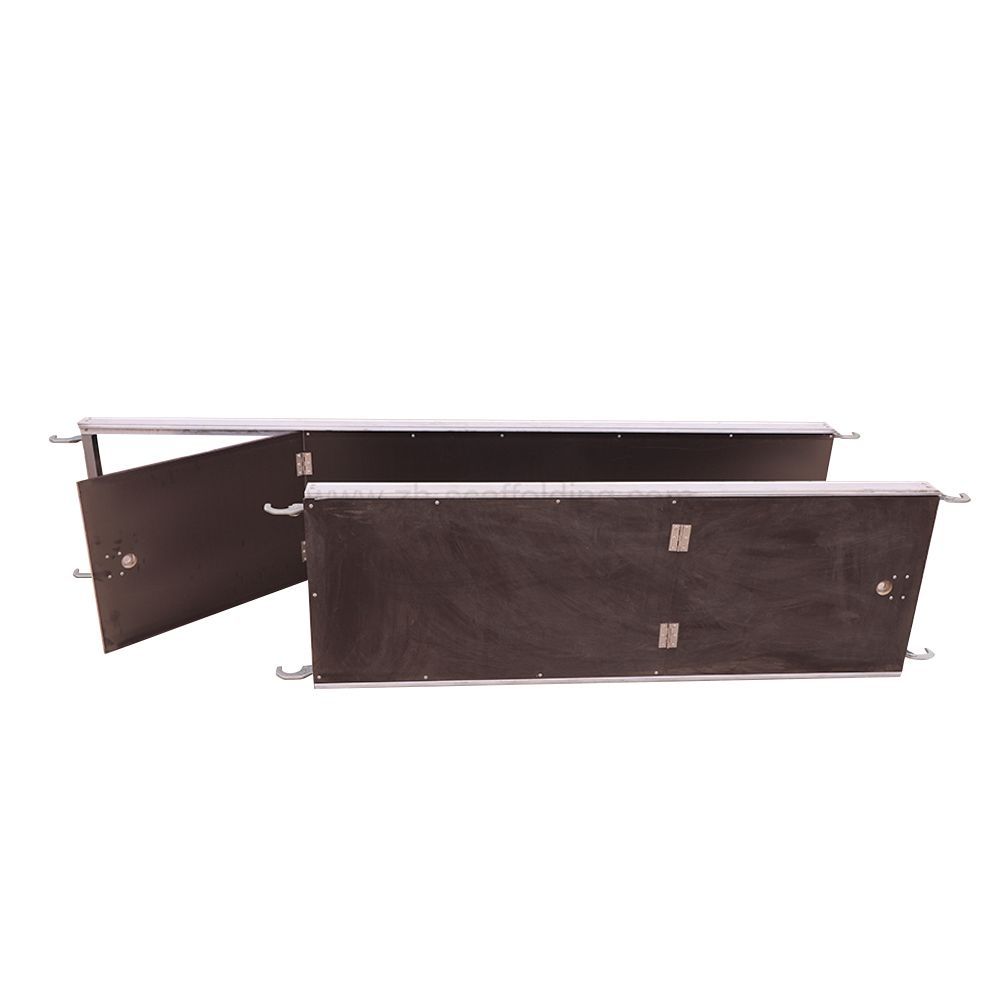 Working platforms should be wide enough and be sufficiently boarded out to allow safe passage of persons along the platform. They should also be capable of resisting the loads imposed upon them, including high wind loads that could dislodge the scaffold boards. The contractor in control of the workplace must risk assess for potential adverse weather conditions.
Guardrail System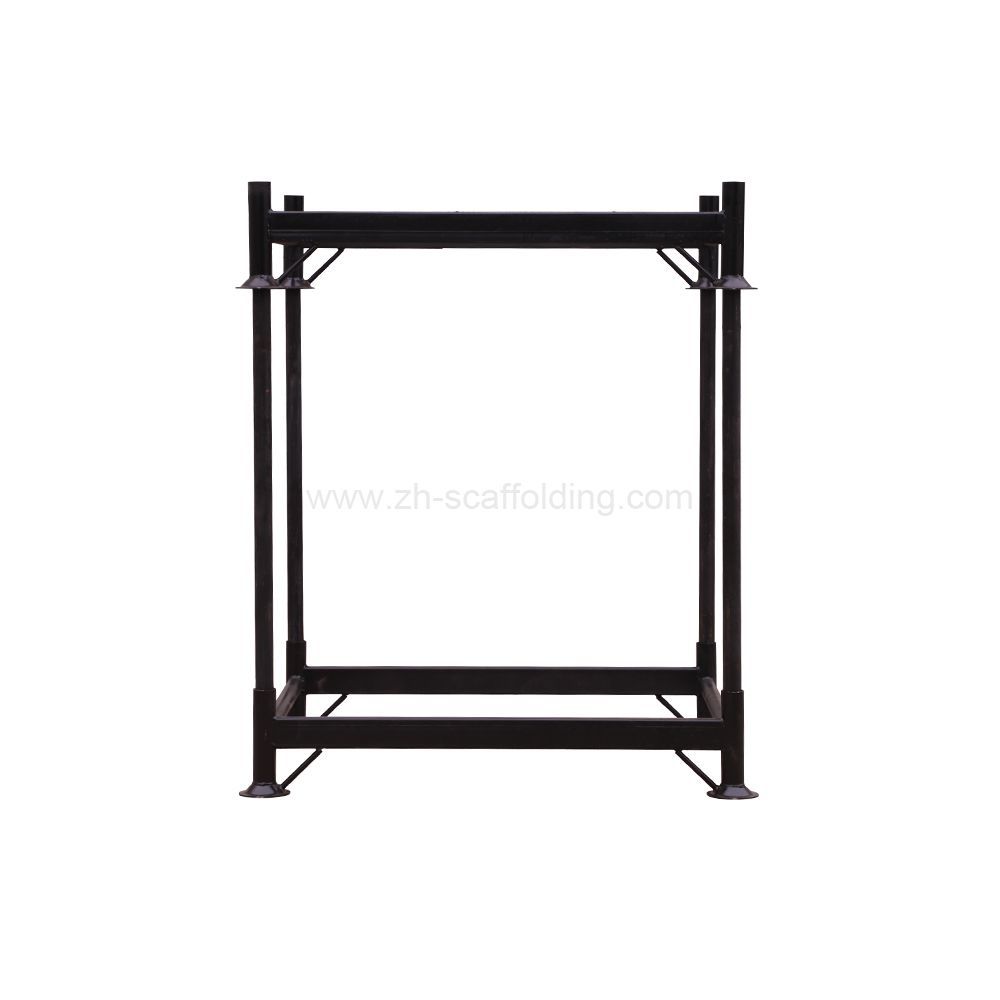 A fall protection system (i.e. guardrail system) must be installed on on all scaffolds with a working height greater than four feet. The guardrail system shall be installed along all open sides and ends of the platform before being used as a work platform by employees. One exception is when the scaffold platform is within 14 inches of the face of the work.
Top rails (manufactured after 1/1/2000) must be 38 - 45 inches above the platform surface. (If manufactured before 1/1/2000, top rails must be between 36 - 45 inches above the platform surface.) Top rails must be capable of supporting at least 200 pounds applied in a downward or outward direction.
Mid rails must be installed at a height approximately midway between the top rail and the platform surface. Mid rails must be capable of supporting at least 150 pounds applied in a downward or outward direction.
These are the basic Scaffolding Components and the characteristics of their respective applications.
We have different types of

scaffolding

,

scaffolding frames

,

scaffolding ladders

and scaffolding accessories for all types of construction work to assist in everyday tasks. If required you can

contact us

.