What Is Frame Scaffolding?

Main frame scaffolding is manufactured for different industrial use. You can find mainframe scaffolding in temporary auxiliary construction.
What is the advantage having a framed scaffold?
Scaffolding Enables Accessibility
A construction project can be harder to finish if any part is limited or missing. Scaffolding helps resolve this issue because it allows for unhindered access to any part of your building structure. This factor is beneficial because tall buildings, in particular, need a lot of support.
Scaffolds Keep Construction Workers Balanced and Safe
Construction work is laborious. It requires workers to be in a multitude of positions. Construction workers have to be deft, precise and have firm footings. For these reasons, scaffolds provide a perfect balance because they offer a flat surface that can keep workers balanced even as they find themselves in different positions necessary to make the construction process efficient. Here at Scaffold Resource, we stress safety and believe in safe work practices and environments.
Saves Time
Believe it or not, assembling and dismantling scaffolding does not take forever. Scaffolding is user-friendly and doesn't take much effort to assemble or disassemble, saving a lot of time. If you're on a tight deadline, you'll appreciate this fact. Anything that can save time is always a benefit in the world of construction.
What are the types of scaffold frames?
A-Frame Scaffolding
A-frame scaffold can be found in all construction, building, masonry, Stucco, and plastering projects. You can also use A-frame scaffold for sidewalk shed construction, usually in New York City (NYC).
A-frame scaffold mainly powder-coated USA type scaffolding frames and galvanized USA type scaffolding frames. The powder-coated color of USA type scaffolding frames can be customized. Just select what color you want: Yellow, Red, Blue, White, and many more.
Our A-frame scaffold has been approved by ISO9001 & CE Certificated Scaffolding Frame. Our Scaffolding Frames are Produced According to OSHA & ANIS American Standard.
You can find from Us All Types of Scaffolding Frame Systems in All Sizes:
Shoring Frame
Box Frame
Stucco Scaffolding Snap-On Frame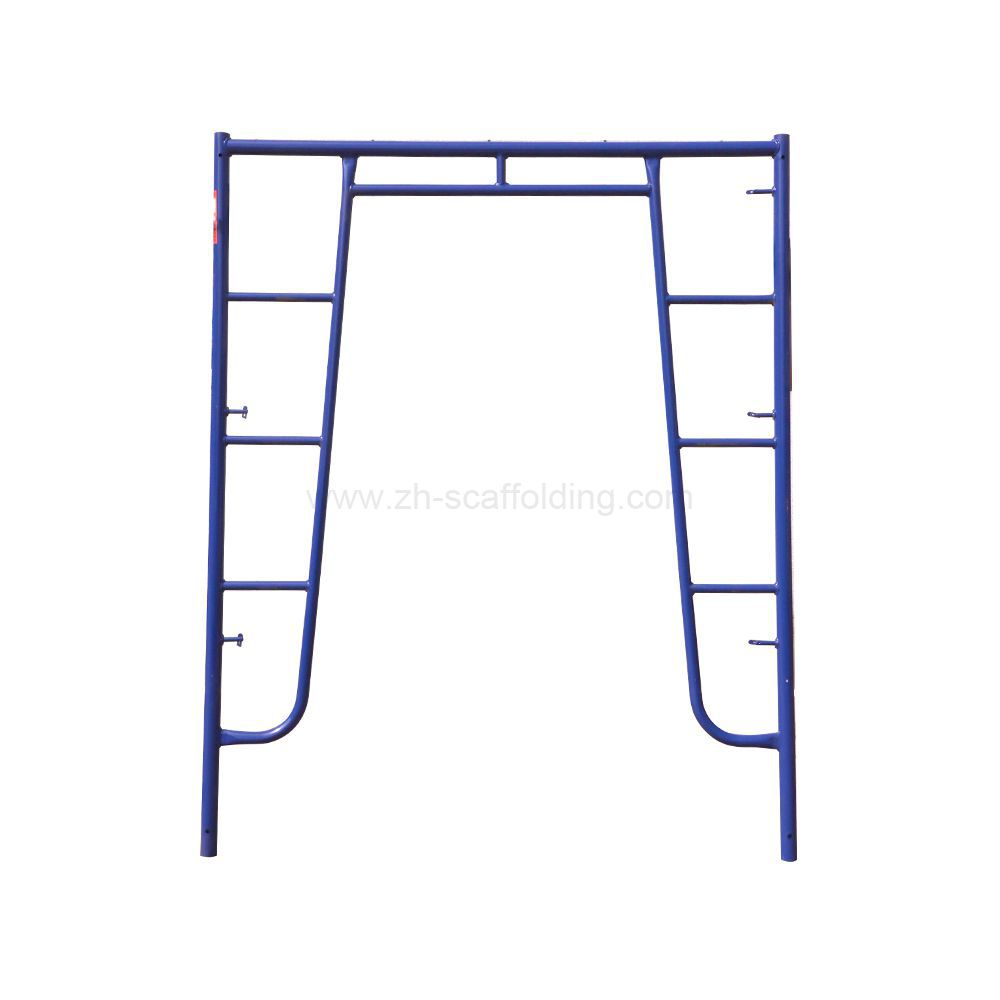 H Frame Scaffolding
H Frame scaffolding Include Ladder Frame Scaffolding, Shoring H Frames, Walk Through Frames. Thus Scaffolding Ladder Frames or Mason Frame Scaffolding, Shoring Frames Can Also be Called H Frame System.
H Frame Scaffolding are Types of Metal Scaffolding Material. Include Aluminium H Frames and Steel H Frames. For Steel H Frames, Perfect-Surface Treatment Helps The Steel H Frame Scaffolding Products In Long Term Lift with Anti-Corrosion.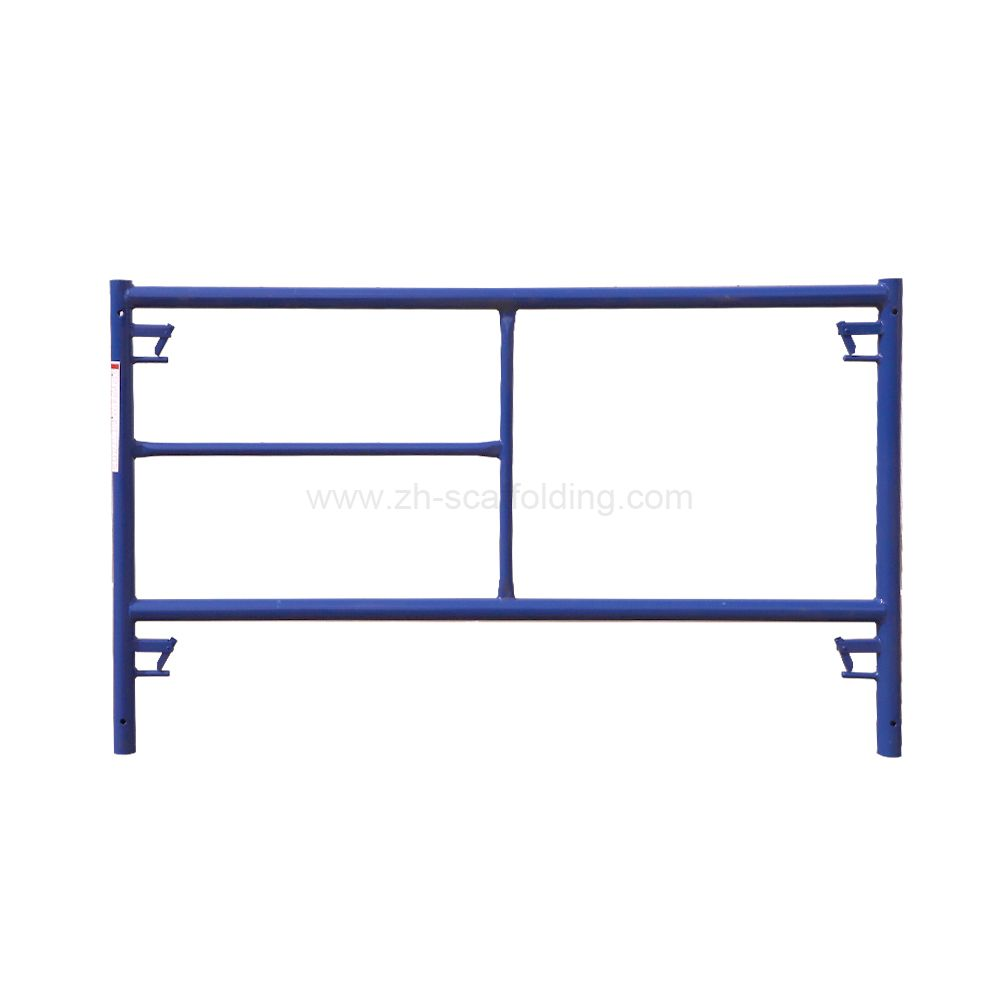 Ladder Scaffolding Frame
Ladder frames are often used in constructing scaffolding towers, interior applications and where more precise adjustments to the working platform height is needed. They also allow you to create a standing platform and a working platform several feet higher to allow you to keep your tools and materials at waist level. Some frames come with rungs on one side of the frame and others come with rungs on both sides. If the rungs on the frames are less than 18" apart, the frame itself is allowed to be used as a ladder per OSHA standards Ladder frames can be used on the ends of a scaffolding platform in conjunction with walk-thru frames. See our ladder frames for sale.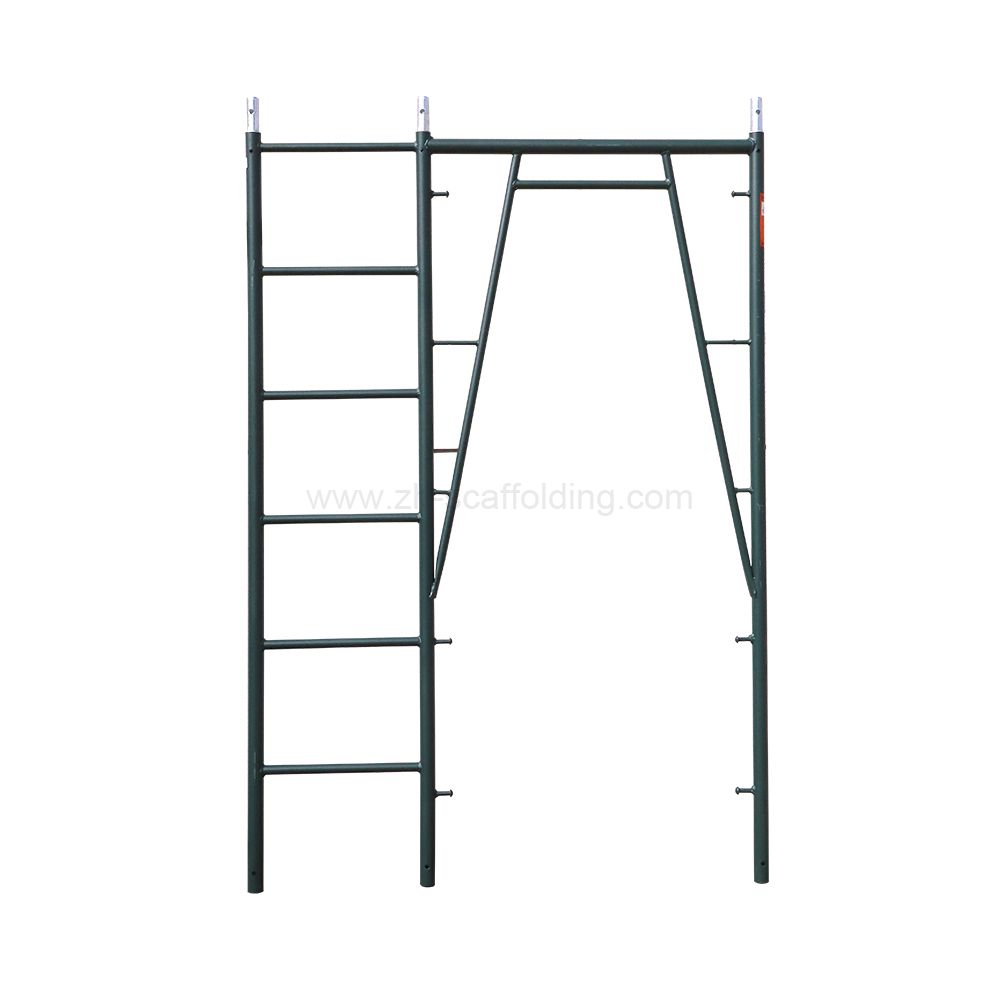 Walkthrough Scaffolding Frame
Walk Thru Frames are open in the middle, allowing you to walk through the frame, even while carrying materials or a wheel barrow. They are often used when you need a long working platform and the ability to scaffold and traverse the length of a wall. With walk through frames, you can create multiple long working platforms on top of each other and have workers traversing and working on each level. See our walk-thru style frames for sale.
Pre-galvanized Scaffolding Frames | Painted/ Coated Scaffolding Frame | Hot Dip Galvanized Scaffolding Frames
There are Pre-galvanized and Hot Dip Galvanized scaffold frame for Your Choose. If You Want Long Term Using of Frame Scaffolding, Hot Dip Galvanized H Frames Will Be The Best for You.
Mainframe Components Of Scaffolding
There are several main components of scaffolding, including:

Standards: These are vertical posts that support the weight of the scaffold and are spaced at regular intervals along the length of the structure.

Ledgers: These are horizontal beams that connect the standards and provide a platform for the workers to stand on.

Transoms: These are horizontal beams that connect the ledgers and provide additional support for the scaffold.

Braces: These are diagonal support beams that help to stabilize the scaffold and prevent it from tipping over.

Decking: This is the material that is used to create the platform for the workers to stand on. It can be made of wood, metal, or other materials.

Guardrails: These are railings that are placed around the edge of the scaffold to prevent workers from falling off.

Toeboards: These are low walls or barriers that are placed around the edge of the scaffold to prevent tools and other objects from falling off.

Ladders: These are used to provide access to the scaffold and are typically made of metal or wood.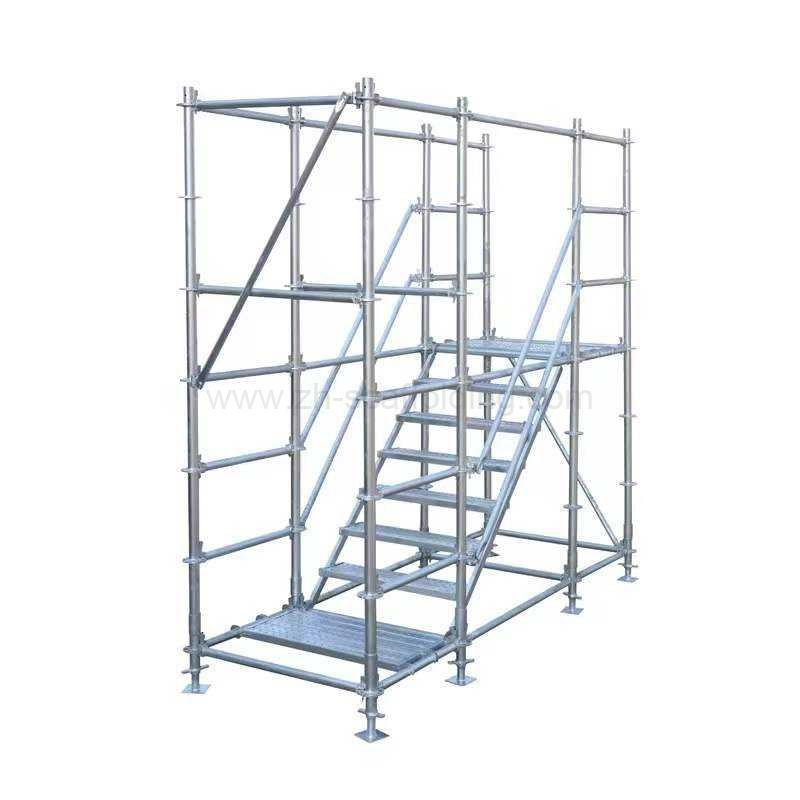 ---
We Offer all Scaffolding Services For Residential & Commercial Projects in SG. Call Us! MOM - Approved Contractors. Any Size Project at Low Rates. Get a Free Quote Now!