The Ringlock scaffolding system is one of the types of modular scaffolding. It enables workers to set up, use, and disassemble a temporary work structure with speed and efficiency, therefore saving on time and labor cost. Ringlock is one of the most sophisticated and complete scaffolding systems on the market. It has been designed to keep components minimal to allow for simple set up and dismantle. A single rosette sits at the core of all components. With a built-in safety mechanism and high load capacity, the ringlock scaffolding system is a popular choice in many different kinds of applications.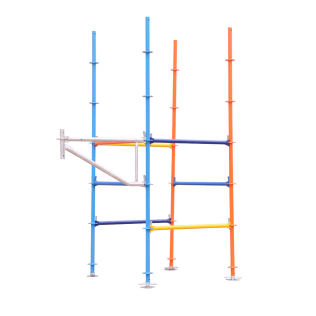 Ringlock system is ideal for structures with complex elevations and shapes. Where angular flexibility is imperative, the ringlock scaffold always delivers. It is designed such that it requires minimal space for storage. This versatile scaffolding system is used for support and access structures in construction industry, offshore construction, industrial maintenance, and ship building.
At the heart of the scaffold is a single rosette that allows up to four braces and four horizontals to be attached to it with the simple use of a hammer. Ringlock can be used for circular, curved, or straight structures, and it can also be used for mobile and independent towers. This system lacks loose components, which makes usage, maintenance, and storage easy.
Components
1.Standrads aim to give vertical support to the scaffold. And it comes in many different sizes to adapt to any structure. These can be bought with or without spigots. Standrads are also known as standards.
2.Horizontal ledgers aim to provide horizontal support for platforms and loads. They can also be used as guard-rails for safety purposes. These also come in a variety of sizes, to suit each situation.
3.The screw jack or base jack is the starting point of a ringlock scaffold. It is adjustable to allow for changes in height when working on an uneven surface.
4.Hop up brackets serve to extend the platform so as to get closer to the structure, when it is not possible to do so with the main scaffold.
5.Steel planks are responsible for creating the platform on which workers actually stand. They are positioned side by side, and the amount of planks that are used determines the width of the platform.