A ladder jack scaffold is a simple device consisting of a platform resting on brackets attached to a ladder. Ladder jacks are primarily used in light applications because of their portability and cost effectiveness.
Access ladders, platforms, and scaffolding are used to reach high areas in a work site. Ladders allow workers to climb or cross over to a high place. Scaffolding and platforms provide a stable standing surface when working in high areas for extended periods of time
Ladder Scaffolding has a ladder traverse built into the frame. Our Ladder Scaffolding comes in many different shapes and sizes, each designed for a different type of scaffolding work.The purpose of the Ladder Scaffolding is twofold. Firstly, they provide an elevation option for work or material platforms on scaffolding. Secondly, if the rungs are 18 inches or less apart, you can use them as a ladder to access the scaffold platform.
Types of Ladder Scaffolding Frames
The Walk-Thru/Ladder Scaffolding Combo Frame, allows you to walk through the frame and create a long working platform, but also allows you to climb up the frame to access the platform and use the ladder steps to create a working platform tool for your materials and waist height. This frame is 5ft wide and provides a sturdy scaffolding platform that can be stacked high to give you plenty of working space and is versatile. The downside to this ladder scaffolding frame is that it is the heaviest of all the frames we carry and is more expensive than many others sold here.
Uses:
masonry, mortar, long platforms, wide platforms, multiple platforms.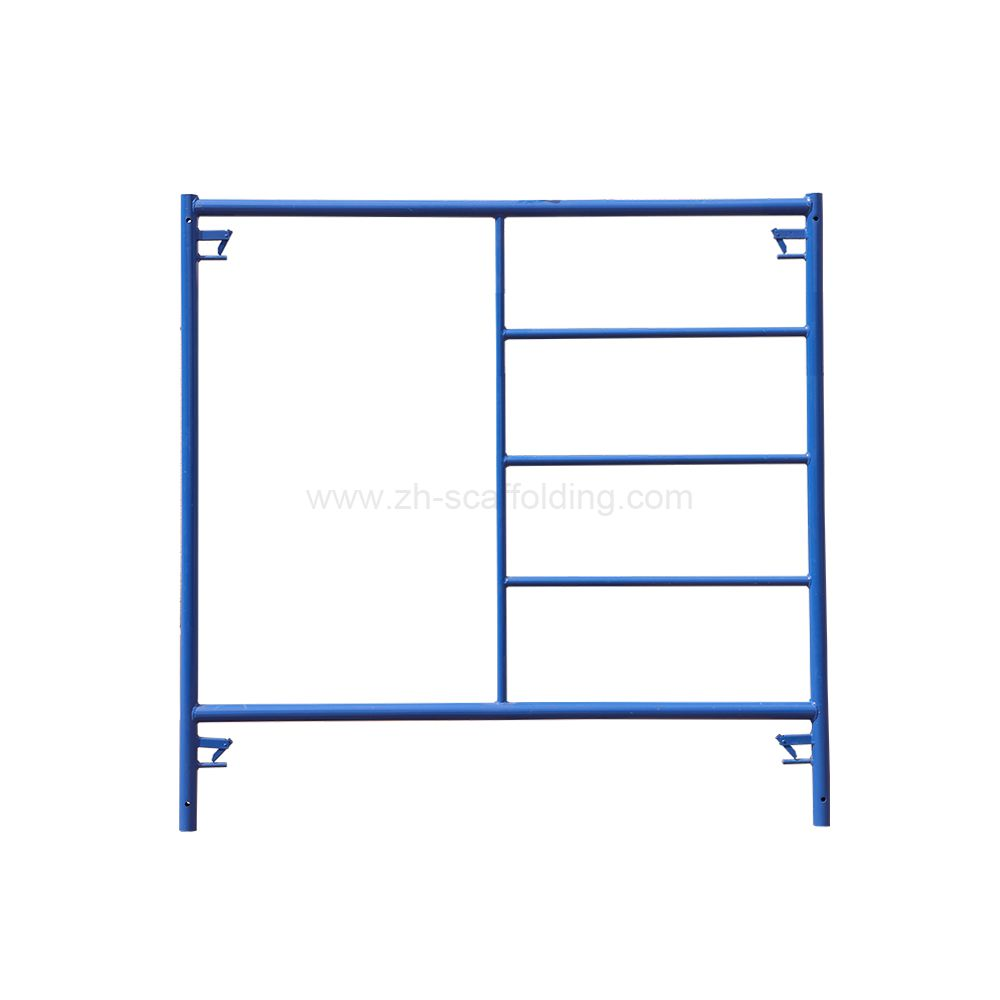 It is called triple ladder because there are three rungs between the top and bottom frame bars. These rungs are close enough together to be used as ladders to access the scaffold platform. The rungs are located on one side of the scaffold frame with an access opening on the other side. This frame provides stability and a large platform size with a 5ft wide frame. These frames are commonly used to make scaffold towers and as end frames on long masonry platforms, so they can double as ladders for access. the 6ft 4in height means you have multiple stacked working platforms with plenty of height for crews to work on the lower platforms.
Uses:
masonry and mortar (as end pieces), drywall, painted scaffold towers, multi-storey platforms, wide flat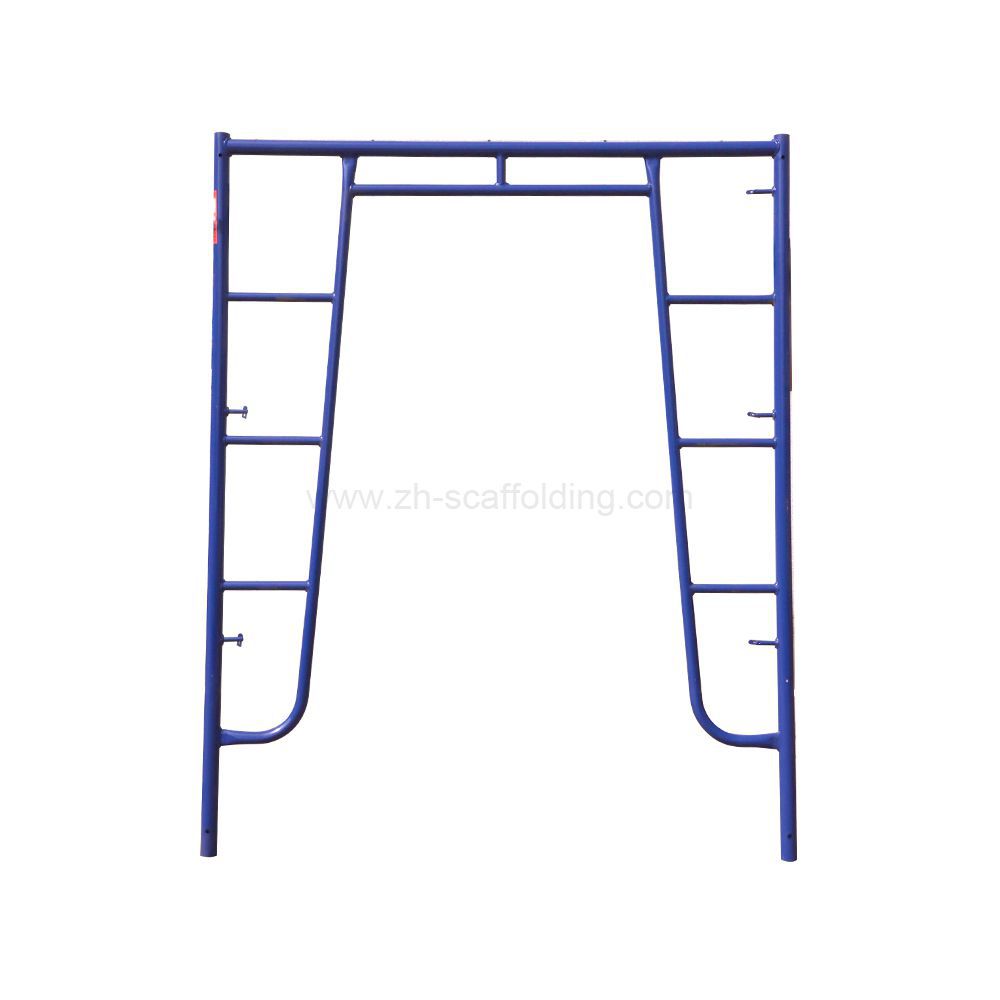 This ladder frame is very similar to our triple ladder above, except that it has ladder rungs on both sides of the frame, rather than one entrance on one side. As you have 8 different locations to place the scaffold boards, this frame gives you the maximum ability to create custom configurations using scaffolding and working platforms. The only downside to this frame is that you have to climb over or around the top to access your scaffolding platform.
Uses:
painting, plasterboard, carpentry, scaffold towers, multi-storey platforms, wide platforms.
Ladder Scaffolding safety knowledge
Scaffolding is an indispensable temporary facility in building construction, it is erected as the work progresses and is dismantled when the work is completed. Because it is a temporary facility, the quality of its erection is often overlooked. Although scaffolding is a temporary facility, but in the foundation of the project, the main construction and decoration, equipment installation and other operations, are inseparable from the scaffolding, with scaffolding to solve the personnel work platform, temporary storage of materials and short distance transport road problems. So the scaffolding design and erection of whether reasonable, not only directly affects the construction, but also related to the operating conditions of the staff and life safety. To this end, the erection of scaffolding should meet the applicable, safe, economic basic requirements, specific requirements are as follows:
1.to have sufficient strength and area, can meet the needs of workers to operate, stacking materials and transport.
2. to be strong, stable, to ensure that under the action of the specified load and the influence of climatic conditions, can prevent workers and materials fall and scaffolding stable.
3.The structure is reasonable and simple, and it should be easy to set up, dismantle and carry.
4. The foundation of the scaffold should be flat and well drained, and specific practices should be selected according to the different soil qualities and erection heights in the standard table. Should first pop out of the door frame pole position line, pad, base placement position to be good, the bottom should be added to sweep the pole.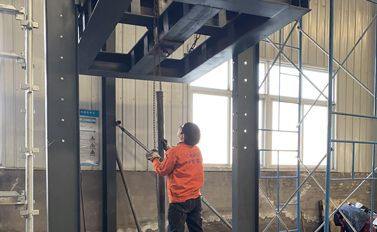 additional information on Ladder Jack Scaffolds
Fall protection requirements
Employees working above 10 feet (3.1 m) on a ladder jack scaffold must be protected from fall hazards by a personal fall arrest system .
The maximum distance from the face for plastering and lathing operations must be 18 inches (46 cm).
The front edge of all platforms must not be more than 14 inches (36 cm) from the face of the work, unless guardrail systems are erected along the front edge and/or personal fall arrest systems are used.
Support
All ladders used to support ladder jack scaffolds must comply with Stairways and Ladders.Ladder jacks must be designed and constructed to bear on The side rails and ladder rungs.Or the ladder rungs alone.If ladder jacks bear on the ladder rungs alone, the bearing area must include a length of at least 10 inches on each rung.Ladders used to support ladder jack scaffolds must be Placed to prevent slipping.Fastened to prevent slipping.Or equipped with devices to prevent slipping.
Platforms
Platforms should not be placed higher than 20 feet from the supported base.
Scaffold platforms must not be bridged together.
maximum intended load
Ladder jack scaffolds have a maximum intended load of 25 pounds per square foot.Not more than two employees may occupy any platform at one time. The maximum span between supports is 8 feet.
Based in Tianjin, China, Zhonghong (Tangshan) Construction Technology Development Co., Ltd is a leading manufacture of scaffolding. We are specializing in export scaffolding and scaffolding accessories, including door scaffolding, disc scaffolding, aluminum scaffolding, pull rod, steel shoring, aluminum shoring, iron pedal, all-aluminum pedal, aluminum wooden pedal, and scaffolding accessories. Our products are mainly exported to Europe(France, Spain, Italy, England), the US and Mexico, and are unanimously recognized by all our customers. if need Ladder Scaffolding, welcome to contact us!