What is scaffolding made of?
Scaffolding is a temporary structure used as a means of access to places above ground level, in some cases underground. Scaffolding needs to be strong enough to support the weight of sometimes more than one person, which is why scaffolding structures are usually made of steel or aluminium.
Aluminium scaffolding
Portable scaffolding systems are very useful when you need to work in areas above ground and where you need to free your hands. This is the advantage of scaffolding over other types of aerial work equipment such as telescopic ladders, step ladders and combination ladders. So, for example, if you simply want the best scaffolding for painting external walls, then aluminium scaffolding is perfect for you. Scaffolding can be purchased in a variety of heights and lengths to suit your own work requirements.
Can you move scaffolding?
Construction scaffolding is usually fixed to the ground with the base plate and therefore cannot be moved.
For example, tower scaffolds made of steel or aluminium are usually attached to the scaffold on castors at four ground contact points.
When the scaffold is in use, these castors should be locked into place so that the scaffold does not move around.
When not in use and no one is on the scaffold, the scaffold can be moved out of position. Simply unlock the castors and, after ensuring that the floor is level and secure, move the scaffold to its new position.
To avoid the risk of the scaffold tipping over when moving, it is most important that the scaffold is dismantled to a level that ensures it will not tip over.
Is portable aluminium scaffolding easy to move?
Portable scaffolding systems are usually made of steel or aluminium and are usually easy to move thanks to the swivel castors on the scaffold base. It is always recommended to ensure that the ground to which the scaffold is to be moved is firm and level. For safety reasons, it is best to dismantle the scaffolding system to a lower position when moving the scaffolding position.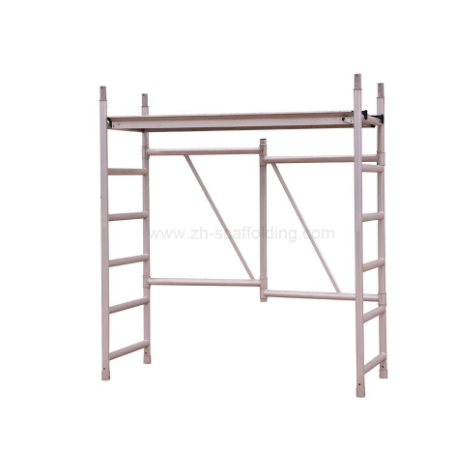 Best Aluminium Scaffolding Types
Aluminium scaffolding for low level work
4-3/4 ft x 4 ft x 2 ft: Easily fits through standard doorways and is perfect for home DIY jobs, decorating projects or remodeling work. With a 500 lb. load capacity, this low-level interior scaffold is useful for painters and decorators, electricians, plumbers, plasterers and builders. If you don't want the convenience of a shelf for any reason, then it simply folds up and you're good to go.
Multifunctional aluminium scaffolding platform
ZHONGHONG gives you a choice of many working heights so you can always find the perfect height to work safely. The steel construction means it can withstand a working load capacity of 1000 lbs and is suitable for domestic and professional use as it meets all relevant OSHA and ANSI standards.This scaffolding system is so well constructed that ZHONGHONG has provided after sales service for this product.
Multi-purpose aluminium scaffolding tower
The scaffolding system has a heavy duty steel powder-coated frame which provides a strong and durable feel to this scaffold. Giving you the opportunity to finally complete those long out of reach high up jobs such as exterior house painting, general maintenance, exterior lighting work and much more, the all important top rail system is securely mounted in place to ensure safe work on the top platform section and adding extra stability to the bottom of the scaffold are the four legs.
Best aluminum scaffolding manufacturer | ZHONGHONG
ZHONGHONG is a top manufacturer of quality aluminum scaffolding towers, and when it comes to our selection of aluminum scaffolding for sale, ZHONGHONG offers only the best products that you can count on to get a project done - big or small - and done well. Why settle for second best when you can get a trusted name brand product at factory direct prices, ZHONGHONG has aluminium scaffolding towers which, unlike traditional scaffolding, are very light and mobile, making this rolling scaffolding much easier to manoeuvre. For more information about our aluminium scaffolding for sale, please contact ZHONGHONG Scaffolding directly to have a member of our expert team answer your questions. Thank you for choosing ZHONGHONG Scaffolding Company.